France country code is :
00 33 or +33
You will always have to dial this telephone code before the number you want to call in France.

Choose another country :
By countries : By country code :
How to call France ?
To call France you need to dial like this : 00 + France country code + city area code + the number you wish to call. For example to call France you always need to do 0033 + number, so it looks like 00 33XXXXXXXXX. (00) is the intrnational access code but from Canada it is 011.
What is the 33 country code ?
0033 is France country telephone code. It's the dialing code you need for calling France from another country. This page concern only France dial code. If you want to know others dialing country codes you can find what you search in homepage.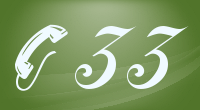 International access code can be replaced by "+" and the dialing code can be written like +33 or like 0033.
Indicatifs France par villes
;Aix-En-Provence 442
;Biarritz 559;Bordeaux 556
;Cannes 493;Cherbourg 233;Corsica 495
;Grenoble 476
;Le Havre 235;Lille 320;Lourdes 562;Lyon 472/478
;Marseille 491;Montpellier 467
;Nantes 240;Nice 493
;Paris 1;Reims 326
;Rouen 235
;St.Etienne 477;St.Tropez 494;Strasbourg 388
;Toulon 494;Toulouse 561;Tours 247
;Vichy 470