South-Africa country code is :
00 27 or +27
You will always have to dial this telephone code before the number you want to call in South-Africa.

Choose another country :
By countries : By country code :
How to call South-Africa ?
To call South-Africa you need to dial like this : 00 + South-Africa country code + city area code + the number you wish to call. For example to call South-Africa you always need to do 0027 + number, so it looks like 00 27XXXXXXXXX. (00) is the intrnational access code but from Canada it is 011.
What is the 27 country code ?
0027 is South-Africa country telephone code. It's the dialing code you need for calling South-Africa from another country. This page concern only South-Africa dial code. If you want to know others dialing country codes you can find what you search in homepage.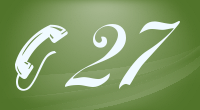 International access code can be replaced by "+" and the dialing code can be written like +27 or like 0027.
South-Africa cities area codes.
You can find below area codes for major cities of South-Africa. Before dialing, you must first enter the country code for South-Africa and then the area code of the city you want to call.
So, you must start your dialing like this :

IDD + South-Africa country code + city area code + ?????
| City | Dialing codes | Area code | City calling phone code |
| --- | --- | --- | --- |
| Acornhock | +27 | 1127 | 00271127 |
| Alberton | +27 | 21 | 002721 |
| Alice | +27 | 404 | 0027404 |
| Amanzimtoti | +27 | 31 | 002731 |
| Athlone | +27 | 21 | 002721 |
| Auckland Park | +27 | 11 | 002711 |
| Belville | +27 | 21 | 002721 |
| Berea | +27 | 11 | 002711 |
| Bloenfortein | +27 | 51 | 002751 |
| Boksburg | +27 | 11 | 002711 |
| Braamfontein | +27 | 1 | 00271 |
| Cape Town | +27 | 21 | 002721 |
| Centurion | +27 | 12 | 002712 |
| Crawford | +27 | 21 | 002721 |
| Dalbridge | +27 | 31 | 002731 |
| Daveyton | +27 | 11 | 002711 |
| Dube | +27 | 11 | 002711 |
| Durban | +27 | 31 | 002731 |
| East London | +27 | 431 | 0027431 |
| Emmarentia | +27 | 11 | 002711 |
| Empangeni | +27 | 351 | 0027351 |
| Fort Beaufort | +27 | 21 | 002721 |
| Gauteng | +27 | 11 | 002711 |
| George | +27 | 441 | 0027441 |
| Giyani | +27 | 158 | 0027158 |
| Grahamstown | +27 | 461 | 0027461 |
| Johannesburg | +27 | 11 | 002711 |
| Kenwyn | +27 | 21 | 002721 |
| King Williams | +27 | 404 | 0027404 |
| Klerksdorp | +27 | 18 | 002718 |
| La Montagne | +27 | 12 | 002712 |
| Lady Smith | +27 | 361 | 0027361 |
| Lenasia | +27 | 11 | 002711 |
| Lenyene | +27 | 52 | 002752 |
| Mangauno | +27 | 51 | 002751 |
| Mankurwane | +27 | 531 | 0027531 |
| Maraisburg | +27 | 11 | 002711 |
| Mitchells Plain | +27 | 21 | 002721 |
| Mulbarton | +27 | 11 | 002711 |
| Natal | +27 | 351 | 0027351 |
| Nigel | +27 | 11 | 002711 |
| Parkview | +27 | 11 | 002711 |
| Pietersburg | +27 | 152 | 0027152 |
| Pietermaritzburg | +27 | 331 | 0027331 |
| Pinelands | +27 | 21 | 002721 |
| Pinetown | +27 | 31 | 002731 |
| Port Elizabeth | +27 | 219 | 0027219 |
| Pretoria | +27 | 12 | 002712 |
| Rethabile | +27 | 12 | 002712 |
| Rivonia | +27 | 11 | 002711 |
| Rondebosch | +27 | 21 | 002721 |
| Salt River | +27 | 21 | 002721 |
| Sandton | +27 | 11 | 002711 |
| Scottsville | +27 | 331 | 0027331 |
| Seshego | +27 | 152 | 0027152 |
| Sovenga | +27 | 152 | 0027152 |
| Soweto | +27 | 11 | 002711 |
| Umtata | +27 | 471 | 0027471 |
| Valezia | +27 | 158 | 0027158 |
| Vlaeberg | +27 | 21 | 002721 |
| Wits | +27 | 11 | 002711 |