Viet-Nam country code is :
00 84 or +84
You will always have to dial this telephone code before the number you want to call in Viet-Nam.

Choose another country :
By countries : By country code :
How to call Viet-Nam ?
To call Viet-Nam you need to dial like this : 00 + Viet-Nam country code + city area code + the number you wish to call. For example to call Viet-Nam you always need to do 0084 + number, so it looks like 00 84XXXXXXXXX. (00) is the intrnational access code but from Canada it is 011.
What is the 84 country code ?
0084 is Viet-Nam country telephone code. It's the dialing code you need for calling Viet-Nam from another country. This page concern only Viet-Nam dial code. If you want to know others dialing country codes you can find what you search in homepage.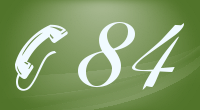 International access code can be replaced by "+" and the dialing code can be written like +84 or like 0084.
Viet-Nam cities area codes.
You can find below area codes for major cities of Viet-Nam. Before dialing, you must first enter the country code for Viet-Nam and then the area code of the city you want to call.
So, you must start your dialing like this :

IDD + Viet-Nam country code + city area code + ?????
| City | Dialing codes | Area code | City calling phone code |
| --- | --- | --- | --- |
| An Giang | +84 | 76 | 008476 |
| Ba Ria - Vung Tau | +84 | 64 | 008464 |
| Bac Giang | +84 | 240 | 0084240 |
| Bac Kan | +84 | 281 | 0084281 |
| Bac Lieu | +84 | 781 | 0084781 |
| Bac Ninh | +84 | 241 | 0084241 |
| Ben Tre | +84 | 75 | 008475 |
| Binh Dinh | +84 | 56 | 008456 |
| Binh Duong | +84 | 650 | 0084650 |
| Binh Phuoc | +84 | 651 | 0084651 |
| Binh Thuan | +84 | 62 | 008462 |
| Ca Mau | +84 | 780 | 0084780 |
| Can Tho | +84 | 71 | 008471 |
| Cao Bang | +84 | 26 | 008426 |
| Da Nang | +84 | 511 | 0084511 |
| Dak Lak | +84 | 50 | 008450 |
| Dong Nai | +84 | 61 | 008461 |
| Dong Thap | +84 | 67 | 008467 |
| Gia Lai | +84 | 59 | 008459 |
| Ha Giang | +84 | 19 | 008419 |
| Ha Nam | +84 | 351 | 0084351 |
| Ha Tay | +84 | 34 | 008434 |
| Ha Tinh | +84 | 39 | 008439 |
| Hai Duong | +84 | 320 | 0084320 |
| Hai Phong | +84 | 31 | 008431 |
| Hanoi | +84 | 4 | 00844 |
| Ho Chi Minh City | +84 | 8 | 00848 |
| Hoa Binh | +84 | 18 | 008418 |
| Home Affairs and Defence Ministry | +84 | 69 | 008469 |
| Hung Yen | +84 | 321 | 0084321 |
| Khanh Hoa | +84 | 58 | 008458 |
| Kien giang | +84 | 77 | 008477 |
| Kon Tum | +84 | 60 | 008460 |
| Lai Chau | +84 | 23 | 008423 |
| Lam Dong | +84 | 63 | 008463 |
| Lang Son | +84 | 25 | 008425 |
| Lao cai | +84 | 20 | 008420 |
| Long An | +84 | 72 | 008472 |
| Nam Dinh | +84 | 350 | 0084350 |
| Nghe An | +84 | 38 | 008438 |
| Ninh Binh | +84 | 30 | 008430 |
| Ninh Thuan | +84 | 68 | 008468 |
| Phu Tho | +84 | 210 | 0084210 |
| Phu Yen | +84 | 57 | 008457 |
| Quang Binh | +84 | 52 | 008452 |
| Quang Nam | +84 | 510 | 0084510 |
| Quang Ngai | +84 | 55 | 008455 |
| Quang Ninh | +84 | 33 | 008433 |
| Quang Tri | +84 | 53 | 008453 |
| Soc Trang | +84 | 79 | 008479 |
| Son La | +84 | 22 | 008422 |
| Tay Ninh | +84 | 66 | 008466 |
| Thai Binh | +84 | 36 | 008436 |
| Thai Nguyen | +84 | 280 | 0084280 |
| Thanh Hoa | +84 | 37 | 008437 |
| Thua Thien Hue | +84 | 54 | 008454 |
| Tien Giang | +84 | 73 | 008473 |
| Tra Vinh | +84 | 74 | 008474 |
| Tuyen Quang | +84 | 27 | 008427 |
| Vinh Long | +84 | 70 | 008470 |
| Vinh Phuc | +84 | 211 | 0084211 |
| Yen Bai | +84 | 29 | 008429 |